Massachusetts Walkway Masonry Contractor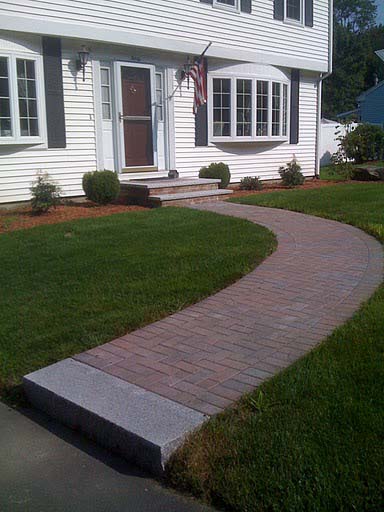 Nearly any path used for walking, can be called a walkway or one can say that a path which is not enclosed and is used for the purpose of walking is a walkway. Massachusetts walkways can be floating, elevated, or laid out straight on the ground. Building walkways can constitute an important part of your garden and backyard. They can add to the décor of your house and beauty of your garden. Durability and easy maintenance are the two important features of any walkway. Creating a great garden walkway design that adds aesthetic appeal.
One of the simplest methods of creating a curved walkway is to create a large arc. You can create the lawn inside the curve. A good walkway is one in which has a wider starting and ending point. If your walkway is going to be a brick paver walkway or flagstone walkway, choose colorful pavers and flagstone. They can be either matching or in contrast with the color of your house. Blue stones look fabulous when used for a walkway. Pavers are available in many different colors.
Stone Mason Walkway Serivces
Residential Walkways
Custom Walkways
Commercial Walkways
Stone, Concrete, or Brick Walkways
If you are looking for a Stone masonry contractor in the New England and Boston area, please call 508-335-8441 or complete our online request form.