4 Signs Your Chimney Is In Need Of Repairs
With the holidays past, and winter in full swing at this point, a fireplace can lend a warmth and festive atmosphere to your entire home. Before you light up your hearth this winter, however, it might be in your best interest to ensure that your fireplace and chimney are safe to use. Many homeowners are under the impression that a simple chimney sweep is all they need to get their fireplace up and running safely, but there is a little bit more to it than that. While a certified chimney sweep should be able to perform an inspection and let you know about any issues you may have, for actual repairs, you will want the expertise of a professional masonry service. To better help you identify when your home's chimney is in need of repair, we have put together a short list of four signs you can be on the lookout for to help identify when your chimney is in need of repair.
Check For A Chimney Cap
This one is easy, and you won't even need a ladder for it. The chimney cap's singular purpose is to make sure that rain stays out of your chimney flue. While it is not technically a part of the masonry of your chimney, its presence is still vital to the survival of your chimney's interior and exterior. In many cases of a home needing chimney repair, our Massachusetts Stone Masons will show up only to find that a chimney cap isn't present. This is such an issue because water is the #1 source of deterioration in almost all home components, mold, rot, mildew, moss, freeze thaw, etc. Water in your chimney, or in the masonry of your chimney is always bad news, and if your chimney doesn't have a cap, you are more than likely overdue for chimney repairs. At a minimum, you are going to want to have a cap installed.
Cracked Chimney Crown
The crown on your chimney forms its second line of defense against water. The crown is the 2″-3″ concrete or mortar slab that has been poured over the very top of your chimney, and covers the bricks of your chimney and surrounds the top flue tiles. Besides covering the hollow areas of your chimney, the crown also helps to protect the porous sides of the brick, helping to keep them from absorbing too much moisture.
Check Your Chimney Tuckpointing
Tuckpointing is the process of repairing mortar joints, and just like with the exterior of your home, it is something that needs to be done between every 30-50 years. The best way to check and see if the mortar on your chimney is in good condition is to take a screwdriver and scrape it across the mortar to see if it is soft or if it crumbles away. Good mortar will barely have a mark left on it after running a screwdriver over it while bad mortar will fall away and leave a gouge. Any areas that you encounter this soft mortar should be repaired as quickly as possible. If you leave this problem unchecked, the mortar will eventually fall away and the bricks will come loose.
Check For White Staining
White discoloration on a chimney is a surefire sign that you have a moisture problem. This white staining is called efflorescence, and it's the natural salts in the brick and mortar being brought to the surface by moisture, and then left behind when it evaporates.
If you are looking for a residential masonry contractor for all of your chimney repairs in New England or the Boston area, give us a call today at 508-335-8441 or fill out our online request form.
Masonry Chimney Repair – Getting it Right For Your Massachusetts Home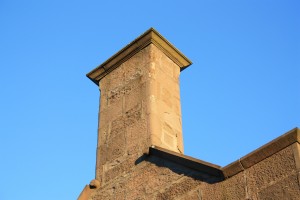 There are chimneys in most homes, adding to the warmth within the home. The difference between various Massachusetts homes' chimneys is the actual construction and design of the chimney. A masonry chimney is one type of flue that is quite common in many homes, and many times with age will require some sort of repair.
Use of any flue will eventually age it and age through elements will definitely erode any structure, making it necessary to maintain your masonry chimney in the most proper way. It's inevitable that everyone isn't a masonry flue repairer, which means that you must not only know when your flue needs fixing, but just who to employ for the job.
It is most often needed to perform some sort of masonry chimney repair when your home's vent has been in place for many years. This is most common when purchasing a Massachusetts home that hasn't been occupied in a while. Even if you have occupied your home but haven't used your vent in a while, the nonuse could allow it to wear with age. If you don't frequently clean or provide maintenance to your flue, it can often erode or become damaged through time. Any of these situations could greatly require the need for a Massachusetts masonry contractor to provide the most appropriate repairs for your chimney repair needs.
Getting just any Massachusetts masonry repair contractor will not do. You must do your due diligence and research companies to find those that are most experienced and skilled in the repair as this is a major fixture within your home. If the job is not performed correctly, you will end up having more costs down the road and most likely worse damages than before.
With a masonry flue created of solid units made from brick, stone, or other masonry material, the company you choose should be able to provide the materials needed to perform the most accurate and proper repair to your specific vent. Masonry chimneys are also lined with specialized fire clay flue liners, meaning that the company you choose should also be able to provide the most appropriate lining for replacement to your original chimney.
When you are able to distinguish the need for masonry chimney repair, you will be better able to choose the right company based on what you need. You should be able to find a company that can provide you with a great repair service, that is accompanied by a great price.
You can learn more about chimney crown repair, and get much more information, articles and resources about chimney repairs by visiting chimney repair.
Article Source: http://EzineArticles.com/4165006
If you are looking for a masonry contractor in the New England and Boston area, please call 508-335-8441 or complete our online request form.
Boston Masonry Repair – Patch or Replace?
Over time,  the masonry in Boston can become cracked and deteriorated, leading to loose bricks, voids in brick or brick, and unsightly, crumbling bricks. As bad as it may look, not all instances of masonry deterioration require extensive restoration. In some cases, patching  masonry may be enough to restore the beauty and durability of your structure.
Cracked and broken masonry does not just look bad, but it can affect the integrity of the masonry structure. Depending on the level of deterioration, the crumbling brick or block may allow moisture or leaks into the structure itself. Additionally, once deterioration of this nature begins, it often spreads very rapidly. If ignored, it can lead to the need for removing and replacing whole sections of masonry, which is much more expensive.
Patching will work best for your project when the deteriorated brick or block has just barely begun, and the section or sections of masonry needing restoration are limited. However, if large sections of the masonry are crumbling away, you may need to have the brick or block removed and replaced for true restoration and lasting durability.
You need to contact RBL Masonry, your local masonry contractor. If patching is not done in the early stages of deterioration, the masonry can crumble away completely and large voids may occur, causing leaks and other problems with the structure. If there is wide spread deterioration to the brick, block, or terra cotta, you will need to pursue further restoration. Sections of the masonry may need to be removed and replaced entirely, rather than just patching. This can be much more expensive than patching, but is well worth saving your masonry structures.